What we do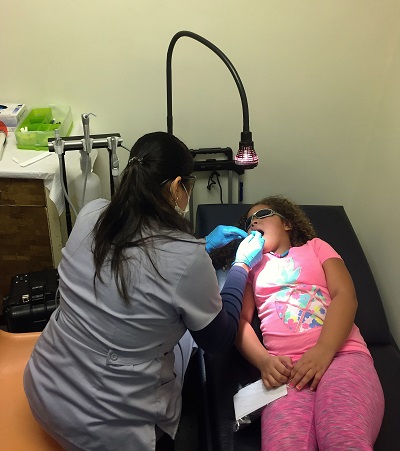 Using portable dental equipment, we do an oral examination of the child in school and apply dental sealants ( if needed) and fluoride varnish. All services are provided at no-cost by experienced and licensed dental hygienists. If we notice any tooth decay, we will notify parents, the child's dentist and the school nurse. If needed, we help parents find a dentist, community health center or dental school clinic in their community.
During the first part of the child's oral examination, a face and neck screening is conducted to ensure proper health and out of the ordinary signs such as swelling or bumps. Next, the child's jaws, lips, cheek, tongue, gums and bite are thoroughly looked at.
The presence or need for sealants are also checked. If required, sealants are applied to the grooves on the chewing surfaces of the back teeth to protect them from tooth decay. American Academy of Pediatrics recommends a checkup at least twice a year at the dentist's.
Fluoride varnish is then applied to prevent tooth decay.
Lastly, the child is given oral health education and resources to lead a healthy lifestyle, as well as a goody bag with dental supplies.
Uncompromising Safety
We follow strict infection control practices using standards recommended by the American Dental Hygiene Association (ADHA), American Dental Association (ADA), the Occupational Safety and Health Administration (OSHA) and the Center for Disease Control (CDC).
Our skilled dental health professionals are committed to continuing education and learning. We regularly attend conventions and seminars to stay abreast of the latest techniques and standards.